— Eat Real Food —
The Paleo 30-Day Challenge
A Paleo Cookbook to Lose Weight & Reboot Your Health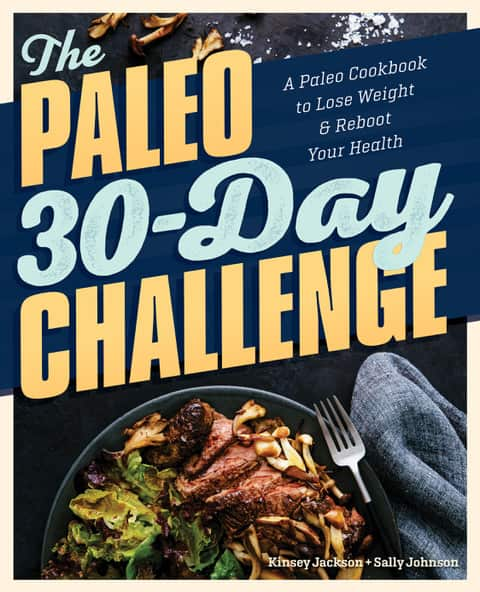 Recipes
We've created 75, easy to prepare, delicious and nutritious Paleo recipes for you to enjoy during your 30-Day Challenge and beyond.
Steps to Success
We provide you with all the tools you need to complete your challenge including food lists, prep and time-saving tips, shopping lists, a 30-Day meal plan, bonus recipes, and all of the essential knowledge and resources you need to succeed.
Paleo Diet Benefits
By replacing SAD (Standard American Diet) foods with those that optimize your health, you'll reduce inflammation, lose weight, reset your metabolism and feel great.
30-Day Challenge Benefits
Within only a few days, you'll start to shed excess pounds and resolve chronic health conditions and after 30 days, you're going to feel like a whole new you.
"When I started working with Sally, my goal was to normalize my bloodwork with healthier food choices. Sally gave me a personalized plan that I could sustain and not only did my bloodwork improve, I also lost 30 pounds in the process!"
— What's Inside —
Description
Unleash the best version of yourself–a paleo cookbook and challenge
Want to see what a paleo diet can do for your health without completely overhauling your life? The Paleo 30-Day Challenge is a paleo cookbook that will help you optimize your health and start losing weight in just a few weeks with 75 delicious recipes, four weeks of meal plans, and plenty of beginner-friendly information.
Built to work like a cleanse, this paleo cookbook will help you reset your metabolism and feel your best with mouthwatering meals that offer optimal nutrition. The tasty recipes in these pages are worked into daily meal plans with weekly shopping lists for a full 30 days of paleo meal planning.
This paleo cookbook includes:
A guide to paleo–Learn about the many health perks of eating a paleo diet–from weight loss to reduced inflammation, improved mood, better athletic performance, and so much more.
5 steps to success–Lay a healthy foundation for your 30-day challenge, from easily preparing your pantry with paleo staples to getting adequate sleep and exercise.
Bonus recipes–You'll discover 16 bonus recipes in this paleo cookbook so you can continue feeling and looking great after the challenge is over.
Kickstart your body into fat-burning mode with the flavorful recipes and helpful information in this paleo cookbook–it's never been so easy!